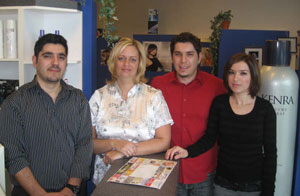 View Larger Map
Whether you're looking for a haircut, looking to change your colour or looking for the latest in hair care products we've got what you want.
New now Eyelash Extensions
Full set       $120
Infill            $50
    Business Hours
Mon – Wed: 9am – 6pm
Thurs – Fri: 9am – 7pm
Saturday: 9am – 4pm
555 Legget Drive, Kanata, Ontario
Men
Our stylists are some of the best in town.  If you're looking for a trim or if you want a full hair cut, we're all set to help you.  If you're interested in hair colouring, styling, or highlights, we do it all.  We're proud to say that we give some of the best value for money in the business – our pricing is competitive and our stylists are truly top-notch.
Ladies
Let our talented stylists curl, colour and cut your hair so it looks exactly the way you want. We're so thankful that we have so many dedicated customers – and many of them rave about our services.  As you would expect, our hairstylists are first rate.  We're convinced you'll be happy you found us – we look forward to seeing you and hearing your feedback!
Children
The Salon offers a child-friendly environment – our stylists are not only experts at making you look great, they will do the same with your children.  They'll leave with a smile – and so will you! We'll do everything we can to make your visit as easy as if you were coming alone.
Please call us to make an appointment or just drop by!
We are located at 555 Legget Drive, just a short drive up March Rd. in Kanata (just south of Morgan's Grant).
We'll see you soon!